Back to Intro
Plant schematic is not a true representation
of a Scot Forge facility or drawn to scale.
Inventory
Forge Overview
Forge Masters
Presses
Ring Mill
Hammers
Bar Mill
Torch Cut
Heat Treat
Mechanical Testing
Machining
NDT
WELCOME TO THE
SCOT FORGE
PLANT TOUR
With the most comprehensive, advanced forging facilities in the industry, our employee-owners are ready to show you around.
Before getting started, please watch our "preview" video for a quick overview of our capabilities. When you're finished, click on the button to Continue to Plant Tour below.

WELCOME TO THE
SCOT FORGE
PLANT TOUR
With the most comprehensive, advanced forging facilities in the industry, our employee-owners are ready to show you around.

A Ready
Inventory
of Materials
Our extensive inventory of raw material allows for shorter lead times and quick reaction to market changes. We stock a wide variety of materials ranging from 4" billet to ingots exceeding 69" in diameter. As the nation's largest purchaser of bottom-poured ingots, Scot Forge has strong partnerships with globally recognized melt facilities, allowing us to offer custom-melt materials uniquely suited to your application.
Forging
Overview
We've been forging well over a century—and through the years, our employee-owners have continued to innovate and find ways to add value for our customers. Today our comprehensive forging facilities can accommodate part weights from 1 lb. to 100,000 lbs. in a wide range of ferrous and non-ferrous materials.
Expert Forging
Consultation
Services
The Scot Forge Customer Value Engineering Team brings the knowledge of forging experts to work in your plant, helping you to achieve long-term cost reductions and improved lead times. Collaborating closely with customers, the team works to convert previous fabrications or castings into near-net shape forgings of higher quality.
Open Die Presses and Upset Press Capabilities
Featuring presses that are engineered and built in-house, our facilities offer unlimited flexibility and speed throughout the forging process. Eight open die hydraulic presses coupled with modern mobile manipulators and the latest in electronics and hydraulics produce a limitless variety of shapes and sizes in both ferrous and non-ferrous materials up to 100,000 lbs. The creativity and skill of our forgemasters allow the versatility to produce complex open and semi-closed die forgings.
High-Tonnage
Ring Mills
Combined resources gives Scot Forge the ability to offer single-piece or high-volume quantities of rolled rings. The forging process produces rings with controlled grain flow, which gives strength and resistance to impact and fatigue not found in rings torch cut from plate, or rolled and welded. If you need rings in a hurry, Ringmasters, our joint venture in Wayne, Michigan, offers deliveries in as little as 5 business days.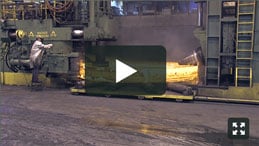 Forging Hammers and Tooling
Combining pneumatic hammers with state-of-the-art heating and manipulating equipment, we can produce blank, ring, dumbbell, single and double hub forgings in a wide range of shapes and sizes. We have developed a unique system which combines hammers and a vast inventory in excess of 10,000 loose tools. Simple and complex custom forgings can be produced close to near net shape configurations without the quantity requirements of closed die.
Hot Rolled Bar Mill with
Sound-Centers
Our well-equipped bar mill has dedicated planishing, cutting, heat treating, straightening, machining and testing equipment to ensure consistent high quality and fast turnaround times. Our unique Tartan Bars® are manufactured through a combination of the forging and planishing process, resulting in bars with a forged sound center, rolled bar surface quality and extremely tight dimensional tolerances.
CNC Torch
Cutting
At Scot Forge, our wide array of equipment enables us to manufacture intricate shapes and contours. Our CNC torches can cut through carbon and alloy forged parts, in thicknesses up to 32" and cross sections ranging between 95" x 144" and 88" x 282". We frequently combine torch cutting, sawing and machining techniques with the forging process to produce uniquely shaped, high-quality parts.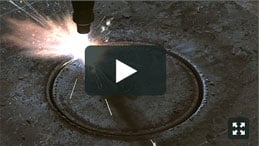 IN-HOUSE HEAT TREATMENT
Each Scot Forge facility houses its own heat treat department to provide normalizing, annealing, quenching, tempering, stress relieving, spheroidize annealing, solution annealing and straightening. Nine custom-design quenchant systems work in tandem with over 40 furnaces. Specialized material handling equipment enables us to heat treat parts up to 70' long or 252" in diameter, including vertical heat treatment up to 110" long. Our Spring Grove facility is accredited to the very stringent Nadcap® Heat Treating conformity assessment.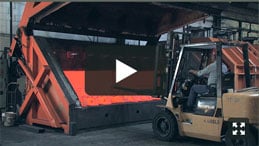 Mechanical and Metallurgical Testing
Through active participation in numerous industry associations, including ASTM, AGMA, FIA and the International Metallography Association, Scot Forge stays on the cutting edge of forging technology and advancement.
Machining Capabilities
Utilizing over 75 machining centers, Scot Forge can turn, mill or bore your parts as specified, with finishes ranging from 32 to 500 RMS. With over two dozen horizontal turret and engine lathes, we are able to turn shafts or bars up to 80" diameter, with lengths to 550" long. Boring capabilities are available to 30" I.D. by 300" long.
Certified
Non-destructive
Testing
Scot Forge staffs an inspection team of industry certified personnel trained to use the latest and most advanced equipment in the field. Our on-site NDT services utilize Magnetic Particle, Liquid Penetrant, and Ultrasonic Testing methods to guarantee your forgings meet the essential quality requirements. Our Spring Grove facility is accredited to the very stringent Nadcap® Nondestructive Testing conformity assessment.